Men's Grooming: A Gentleman's Guide to Quick & Easy Skin Care
Published: September 25, 2020
In my 17 years as a licensed medical esthetician, many men have come into my practice looking for tips and tricks on how to step-up their grooming routines. Whether you're a guy who needs help finding where to start with skincare or a wife/girlfriend who wants her man looking and feeling his best, this blog post is for you. Here are my top tips for men to achieve their best skin ever!
1. The 5 Minute Men's Skincare Regimen
For a man with no skincare routine, jumping into a multi-step regimen can be daunting. That's why when men are looking for a streamlined routine, I recommend a five-minute skincare regimen that covers the basics: cleansing, vitamins, and sunscreen. Going from zero skincare to this simple regimen is going to make a big difference for minimal effort:
Cleanse in the morning and evening: Washing the face with a good cleanser is vital to keep skin clear and refreshed. The Environ Botanical Infused Sebu-Wash Gel Cleanser is a mattifying face wash that will leave the face feeling clean without drying out the skin.
Provide your skin with nutrients: Topical vitamins work magic on skin regardless of gender, age or ethnicity. By applying a moisturizing gel such as the Environ Vita-Antioxidant AVST Gel you will enhance the overall appearance of your skin with vitamin A and vitamin C.
Apply sunscreen: Always remember to end your morning skincare with SPF of 30 or lower regardless of whether you will be out in the sun or not.
Nighttime care: Don't forget to care for your skin in the evenings too! The Environ Alpha Hydroxy Night Cream is great for those with sensitive and reactive skin experiencing redness. This product works by naturally exfoliating to energize tired looking skin and restore a radiant appearance. Another product to try is the Environ Intense C-Boost Mela-Even Cream which helps to reduce signs of aging by improving uneven skin tone and fine lines.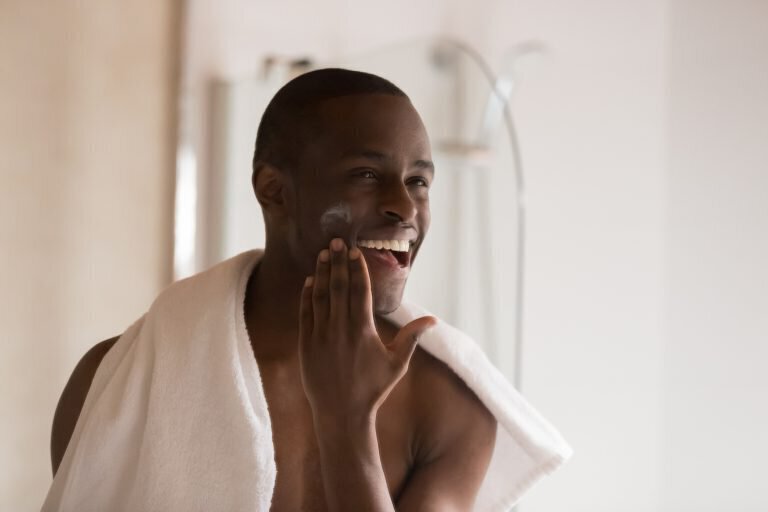 2. Get Oiliness Under Control
Men usually have thicker and more oily skin in comparison to women due to higher levels of androgen. Androgen is the hormone responsible for the overproduction of sebum and can trigger acne. If you are struggling with excess oil production throughout the day, I recommend adding a toner into your skincare routine such as the Environ Botanical Infused Sebu-Tone Clarifier. Not only will this product help to regulate oil production, but it also will prep the skin before shaving to dissolve any blockage and remove the build-up of dead surface skin.
3. Treat Ingrown Facial Hair
Folliculitis, or inflammation of the hair follicle, is a common concern I see with men who are shaving on a regular basis. It's very important to change the blade of your razor frequently in order to prevent ingrown hair and razor burn. Another step to treat ingrowns, is to exfoliate the skin and apply soothing products. The Sebu-Tone Clarifier (mentioned in tip #2) is a great product to exfoliate the face before shaving. After shaving, I recommend applying a soothing gel such as the Vita-Antioxidant AVST Gel (mentioned in tip #1) or the Environ Vita-Enriched Colostrum Gel to calm and cool the face.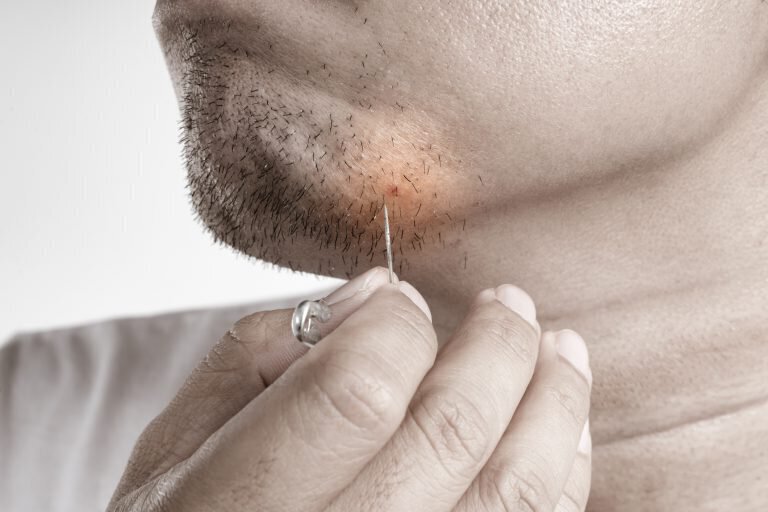 4. Beards Need Skin Care Too!
It's a common misconception that less shaving means fewer skin-care concerns. I often find myself explaining to male clients that the skin under a beard needs its own specific care and ways to wash and keep this skin clean and healthy. Men with facial hair can massage a gentle cleanser such as the Sebu-Wash (mentioned in tip #1) into the beard. This cleanser contains salicylic acid to exfoliate and reduce the possibility of an ingrown hair follicle while the tea tree oil provides antiseptic benefits.
5. Get a Professional Treatment
If you still aren't seeing the results you are hoping for, I recommend seeing a Licensed Medical Esthetician for professional treatments and a customized skincare regimen. An esthetician will be able to perform extractions to remove blackheads and unclog pores along with a variety of other treatments based on your skin-care concerns.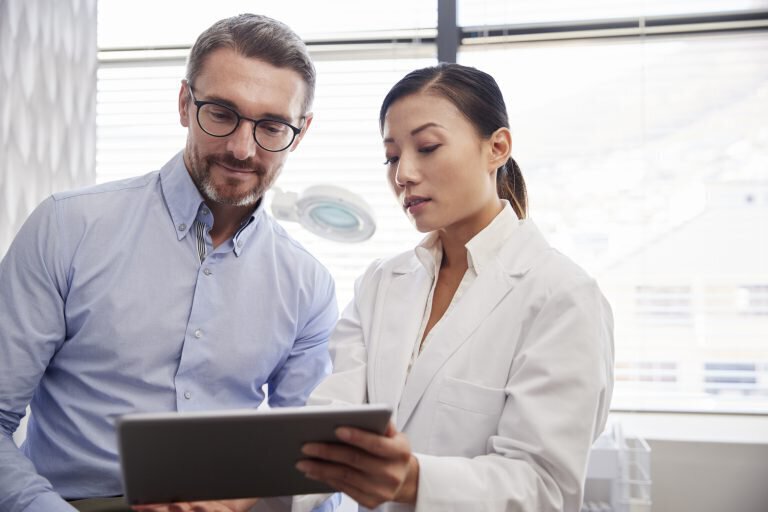 If you enjoyed the tips provided in this article and are interested in visiting us, you can set up a preliminary virtual consultation on our website! You may also call or text us at (650) 409-1200 or email us at [email protected].
~Terrie Absher
Back to blog