HydraFacial Treatments 101: What Clients Should Know About This Popular Facial
Published: August 19, 2020
Terrie Absher
In my two-decades as a Licensed Esthetician, I've noticed many skincare trends come and go, but the HydraFacial, a patented vortex fusion technology, delivers a unique treatment with staying power. When I began performing the treatment in 2003, not many people knew about it and I rarely had clients come in to ask for it by name. As an Educator over the years, I have enjoyed sharing my knowledge of the HydraFacial vortex fusion technology gained from experience, from the special tips to the gentle vacuum technology and serums. Now, as the HydraFacial gains more and more recognition it's one of our most asked about treatments alongside our popular Environ DF II, Triawave, and Omnilux treatments.
Our clients at Total Glow come to us for HydraFacials time and time again because we are not only the local experts, but we have five (5) of the latest HydraFacial Elite devices making us the largest and most experienced HydraFacial practice in California. We are also the only local Black Diamond provider which is determined by the amount of HydraFacials we have performed, not retail product sales. I bring my Hydrafacial and skincare expertise to our entire skincare team by overseeing an extensive three (3) month training program for our aestheticians. Upon joining our Team, every aesthetician is required to go through this program at Total Glow Academy which includes in-depth Hydrafacial training regardless of previous experience before performing a Hydrafacial on a client. Since opening Total Glow in 2017, my staff and I have performed over 15,000 HydraFacials (that's averaging over 13 treatments per day for three years starting with two devices!) so our clients know that when they come to us they are getting treatment with extensive experience behind it.
Since the HydraFacial is only growing in popularity and is one of my favorite treatments to talk about, I thought I'd provide an explainer on the treatment and how we approach the process at Total Glow: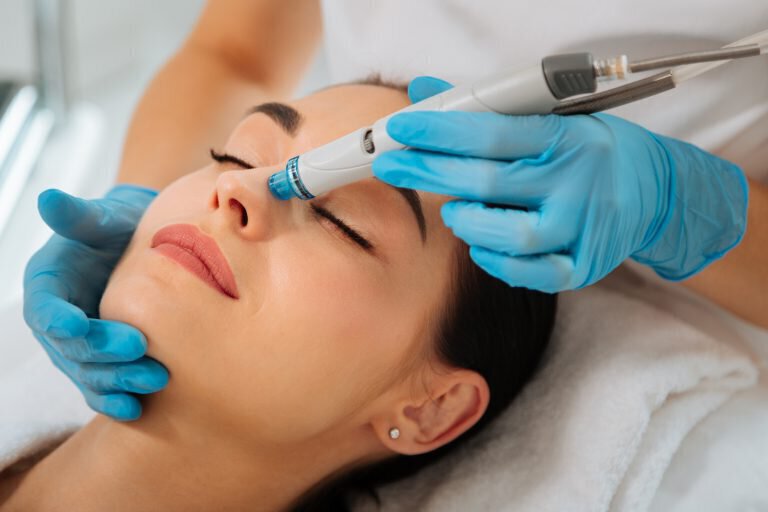 What is HydraFacial Treatment?
First, we'll back way up and cover the basics. To do a HydraFacial treatment, our staff uses a HydraFacial device to carry out a three-part regimen which includes cleansing, exfoliating and hydrating by infusing the skin with beneficial serums.
At Total Glow, no two HydraFacial treatments are exactly alike, because no two individual's skin type, needs, or goals are the same. An essential requirement for an effective HydraFacial starts with a thorough consultation to ensure the right treatment and products are used for the best results. The first step at Total Glow is a Visia in-depth digital photo analysis of the skin which measures the extent of a client's skin concerns such as pigmentation, pore size, UV damage, porphyrins (bacteria lodged in pores) and more. This step along with a personal consultation with a skincare Professional enables us to provide the best treatment plan.
After going over the treatment plan, each client is given a customized HydraFacial.
Prior to the Cleansing modality, some practices, including ours, start with the facial Lymphatic Drainage to detoxify, remove toxic buildup, and decrease inflammation. This attachment is available on HydraFacial devices and on all five (5) of our HydraFacial devices.
Step One is Cleanse + Peel which is deep cleansing that gently exfoliates dead skin cells to resurface the skin. This is followed by a glycolic salicylic peel prep to soften debris deep in the skin and prepare the skin for the next step.
Step Two, Extract + Hydrate was the biggest difference in skincare for congestion when the HydraFacial was first released. I was so impressed after seeing how well it actually worked first-hand. Extractions using the HydraFacial are painless. Gentle vacuum in the vortex technology is able to remove the softened debris in the pores including blackheads which can help refine pores, clear acne, and prevent new breakouts. This step infuses beneficial ingredients to leave the skin hydrated rather than dry, irritated or inflamed as most extraction treatments can do.
Interim Step – Booster specific for skin concerns. The HydraFacial has over 13 boosters to customize treatments. The latest booster released by HydraFacial is Regen GF™, which is a proprietary blend of next-generation growth factor-mimicking peptides that boost production of collagen and elastin, treat inflammation, accelerate skin repair and provide hydration. The boosters range from Brightalive from ZO Skin Health which treats pigment and Rozatrol for sensitive skin and redness, to Alastin's TriHex Booster which improves texture and fine lines, as well as numerous other Boosters for specific concerns.
After this step – we use our LED Light Therapy for 20 minutes to enhance the results.
The third step, Fuse + Protect comes after cleansing, dislodging congestion, and removing impurities in the skin. This step infuses antioxidants and peptides to get your skin glowing.
Step Four – At Total Glow, we take the HydraFacial even further by adding exclusive Environ Vitamin Therapy to replace 90% of the essential nutrients and vitamins that are depleted from UVA and UVB light exposure, the environment, lifestyle, and stress. This will leave your skin with a radiant healthy brilliance that really is the 'Total Glow'. This additional step is how we are able to address with more significance the specific needs of the client by delivering the right treatment and products for each individual. These steps benefit from the application of a combination of Asian and Ayurvedic practices to maximize the performance and results of treatment and is one part of what makes the Total Glow HydraFacial so unique.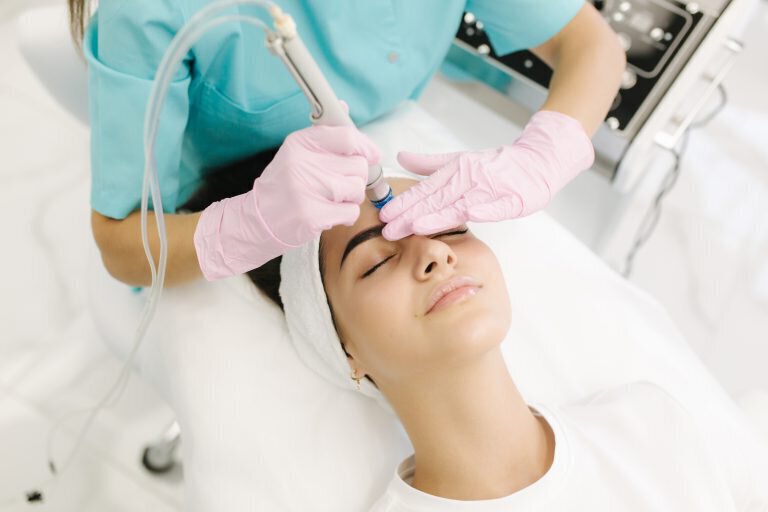 When is a HydraFacial right for you?
A HydraFacial is a great way to give your skin a boost if your skin is feeling lackluster or congested. It leaves the skin feeling healthy and looking younger and more refreshed. You'll know your skin is congested and in need of some deep cleansing if you can see blackheads on the nose, bumpiness, or any active acne, enlarged pores, or dullness.
As mask-wearing is becoming a more regular part of our lives, we're also seeing a rise in the rate of acne in the mask area or "maskne". Many of our clients who have never had any issues with breakouts in the past are coming in with new breakouts. The pandemic has had a direct effect on skin with people experiencing more stress and regular routines interrupted and changing along with wearing masks for extended periods of time. Beyond the HydraFacial's cleansing and rejuvenating benefits for the skin, depending on the facility, this can be a perfect way to add some relaxation and pampering to your self-care routine as well. You can add Balancer Pro Whole Body Lymphatic drainage while you're having your HydraFacial, if available, and turn it into a whole-body wellness experience.
Where To Get a HydraFacial or Learn More?
HydraFacials are strictly an in-office clinical treatment found at your local spa or clinic. Due to the current popularity of the treatment and the fact that many clinics had to close during the shutdown, there may be fewer providers or longer wait times for open clinics than usual to get an appointment and many counties are still under lockdown restrictions and may be temporarily unable to perform the treatment.
—-
Total Glow's excellent service to our clients and convenient scheduling options is one of our priorities. We are fortunate to be expanding our offices and utilizing a portion of our additional space for HydraFacial treatments bringing our total to five luxurious HydraFacial Elite rooms and making us the largest provider in California and the only Black Diamond Provider in the Bay Area. Every member of my staff who performs the treatment has gone through vigorous training to ensure the best results for each individual client, and prioritize results while addressing the specific skin needs of the client before everything else.
If you're interested in visiting us, you can set up a preliminary virtual consultation on our website! You may also call or text us at (650) 409-1200 or email us at [email protected].
Back to blog